Bobby Flay's Meatball Recipe
Bobby Flay's Meatball Recipe
With a combination of 3 meats in a homemade marinara sauce, this meatball recipe, courtesy of Bobby Flay, is full of savory flavor that will put any pasta dish over the top.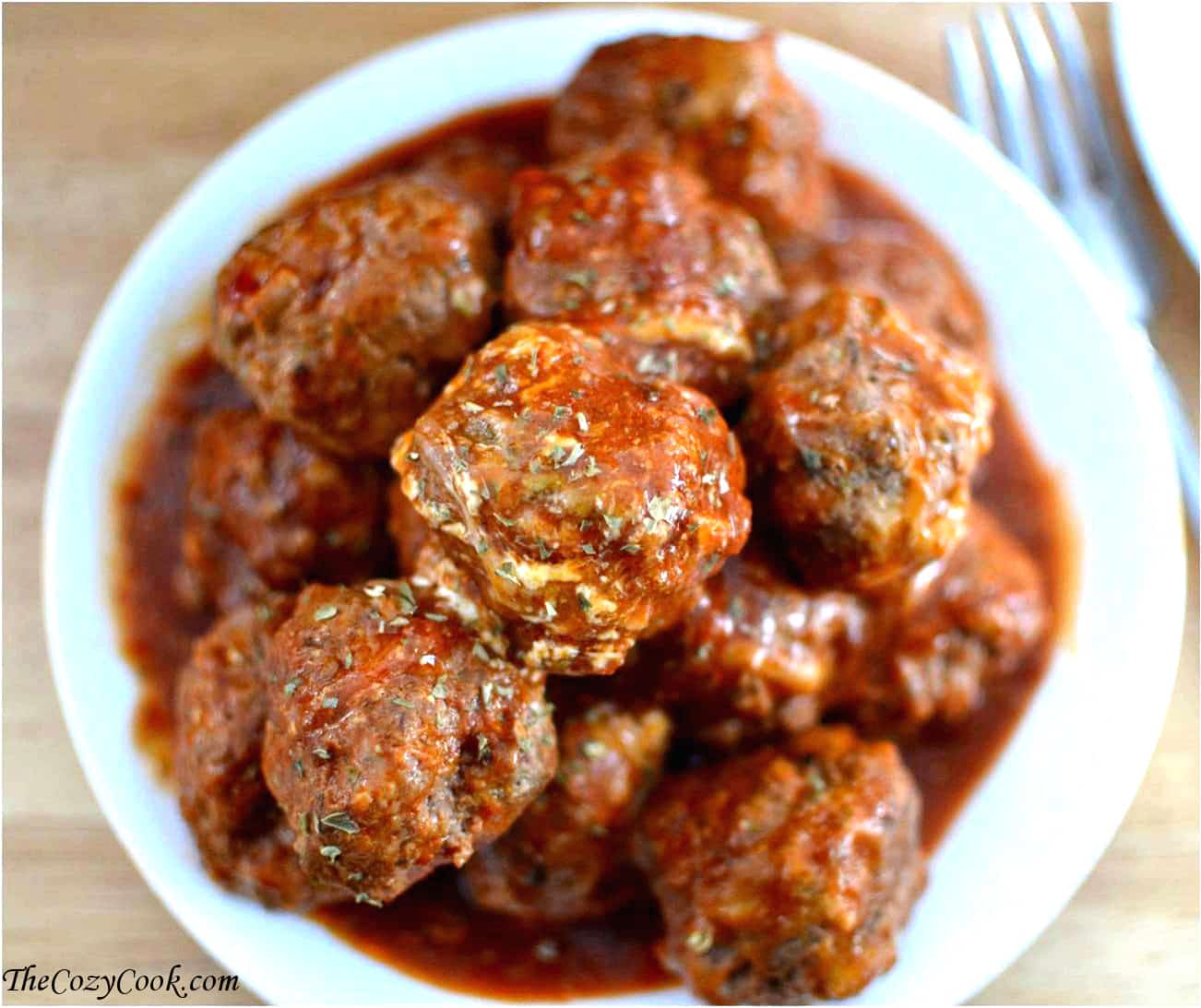 What is the best meat for meatballs?
-A combination of ground beef, ground pork, and ground veal makes for a very flavorful meatball, however solely ground beef can be used, or ground beef along with one of the other aforementioned meats.
The fat content in the beef that you use depends on what other meats are included in the meatballs. In this particular recipe where ground pork and ground veal are also being used, both of which contain a higher fat percentage than ground beef, 90% lean is a good proportion to use for the ground beef. Otherwise, 70% lean is a good choice if solely using beef.
Can you freeze meatballs?
Yes. You can either freeze them before cooking them in the sauce, or after:
If you freeze them before, place the raw molded meatballs on a plate or tray and flash freeze them for 10-15 minutes. This will prevent them from sticking together. Then store them in a freezer bag or airtight container in the freezer. When you're ready to cook them, drop the frozen meatballs into some sauce and let them simmer until they're all cooked and heated through, about 80 minutes.
If you freeze the meatballs after cooking them, simply place them in a freezer bag or airtight container once they've cooled.
How long can you store meatballs in the freezer?
Meatballs maintain their best quality for the first 3-4 months in the freezer, but can still be cooked and eaten after that time.
How long do meatballs stay good in the refrigerator?
Cooked meatballs should be stored in an airtight container and will remain good for 3-4 days in the refrigerator.
Servings: 20 meatballs
Bobby Flay's Meatball and Sauce Recipe
Prep Time: 15 MINS
Cook Time: 40 MINS
Total Time: 55 MINS
Course: MAIN COURSE
Cuisine: ITALIAN
Keyword: MEATBALL RECIPE, MEATBALLS
Ingredients
US CUSTOMARY - METRIC
Meatballs
1/2 pound ground beef
1/2 pound ground pork *see notes
1/2 pound ground veal *see notes
2 large eggs lightly beaten
1/4 cup Parmesan cheese grated
4 cloves garlic finely chopped and sautéed
1/4 cup breadcrumbs
1/4 cup parsley finely chopped
Salt and freshly ground pepper
1 cup olive oil
Homemade Sauce
2 tablespoons olive oil
1 Spanish onion finely chopped
4 cloves garlic finely chopped
56 oz. plum tomatoes and their juice pureed in a blender
1 bay leaf
1 bunch parsley
1 pinch red pepper flakes
Salt and freshly ground pepper to taste
6 basil leaves sliced into strips
Instructions
Meatballs
Combine all ingredients, (except the oil), in a large bowl until well-combined. Roll into 1+1/2 inch balls.
Heat the oil in a large sautee pan or dutch oven over medium heat and add the meatballs. Let them fry, cooking on each side until lightly browned, but not cooked all the way through. About 10-15 minutes.
Add the meatballs to tomato sauce and let them simmer on medium low heat for about 45 minutes.
Homemade Sauce
In a medium saucepan, heat the olive oil on medium heat. Add the onions and garlic until they're softened, about 5 minutes.
Add the pureed tomatoes and juice, the bay leaf, parsley, red pepper flakes, salt, and pepper.
Bring the sauce to a boil, reduce the heat back down to a light simmer, and add the meatballs.
Cover the pot and let them simmer for 40 minutes.
Remove the bay leaf and parsley prior to serving and mix in the basil. Serve, and enjoy!
Recipe Notes
You can substitute the veal and/or pork with ground beef or ground turkey if preferred.
To serve with pasta, combined with 1 lb. of spaghetti. This is also great with a side of garlic bread!
Be sure to check out the video of this recipe at the top of this post!
NUTRITION INFORMATION Calories: 128, Fat: 8g, Saturated Fat: 2g, Cholesterol: 42mg, Sodium: 64mg, Potassium: 312mg, Carbohydrates: 5g, Fiber: 1g, Sugar: 2g, Protein: 8g, Vitamin A: 15.4%, Vitamin C: 15.5%, Calcium: 3.7%, Iron: 4.8%
FoodNetwork.com
How To Make Delicious Food