CHEESY SPAGHETTI BAKE
Who here loves Spaghetti?
I have loved Spaghetti since I was a little girl! In fact, it's always been a family favorite and one that everyone in my family enjoyed. We grew up on this Spaghetti recipe, and have all introduced this to our own family's, which means the entire crew (cousins and all) really love that recipe. Since being in Texas I have tried a few new Spaghetti recipes, some we haven't loved and others we definitely enjoyed, and today's recipe happens to be one of the latter. This Baked Spaghetti was very simple to make and was so delicious! It has a bit of a nip because it has Italian sausage, but if you don't think your kids will like that, you can just use only hamburger meat. My kids thought it was a little spicy since they don't eat a ton of sausage but they still ate it because it was so good and so cheesy!
If you are looking to venture out and try a new spaghetti recipe, I highly suggest giving this one a try. We make pasta one night a week, and for us, it's nice to have several recipes to choose from. You better believe this one is being added to the pasta rotation ASAP!
Here is the simple recipe:
CHEESY SPAGHETTI BAKE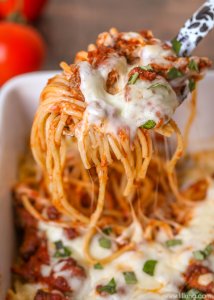 Serves: 6-8
INGREDIENTS
8 ounces uncooked spaghetti, broken up
1 large egg
½ cup milk
1 teaspoon garlic salt
1 teaspoon sugar
1 teaspoon oregano
1 teaspoon basil
½ pound ground beef
½ pound bulk Italian sausage
1 - 14 oz. jar meatless spaghetti sauce
1 can (8 ounces) tomato sauce
2 cups shredded mozzarella cheese
Fresh basil (for garnish)
INSTRUCTIONS
Preheat oven to 350°.
Cook spaghetti according to package directions.
While spaghetti is cooking beat egg, milk, salt,in a large bowl.
Drain spaghetti and add to egg mixture and toss to coat.
Pour into a greased 13x9-in. pan.
In a large skillet, cook beef, sausage, sugar, oregano and basil over medium heat until meat is cooked. Drain and stir in spaghetti sauce and tomato sauce. Spoon over the spaghetti mixture.
Bake for 15 minutes.
Sprinkle with the cheese and fresh basil and cook an additional 15 minutes.
Let set a few minutes before serving. ENJOY!
Recipe adapted from Taste of Home.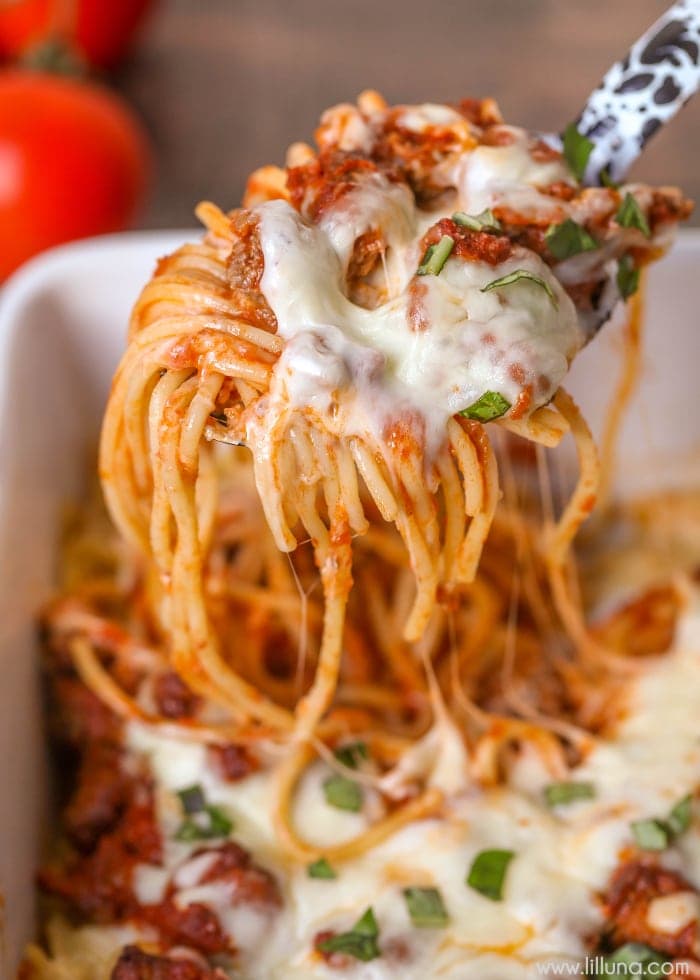 How To Make Delicious Food