Creamy Garlic Herb Mushroom Spaghetti
Creamy Garlic Herb Mushroom Spaghetti
Mushroom spaghetti with a creamy garlic herb sauce? Okay, this is capital L-O-V-E on so many levels.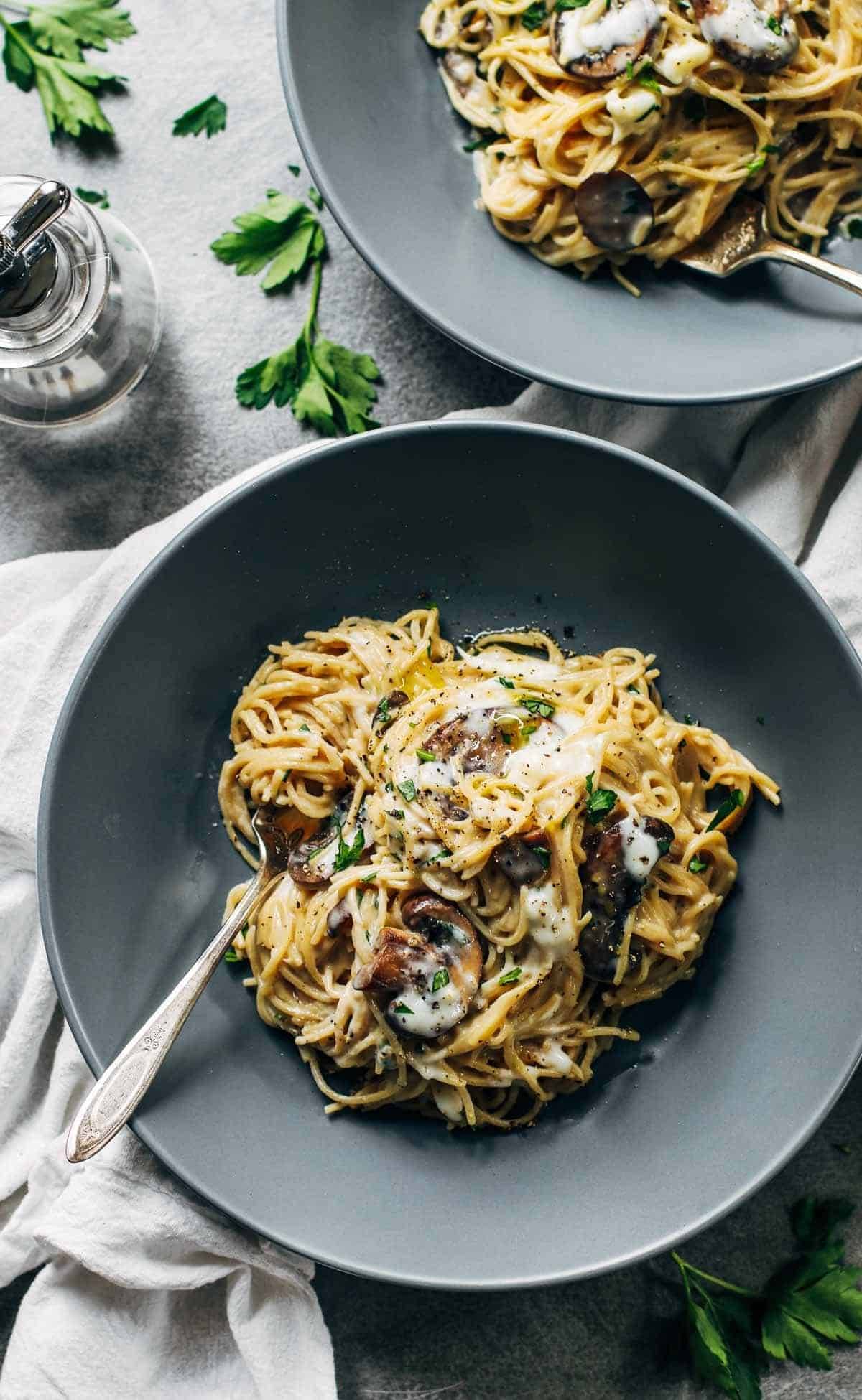 I know – technically, this probably would have been a better fit for Meatless Monday. It's a nice way to change up spaghetti and make it something a little more veg-friendly and, um, what's the word? GAHHHHH?
But when we're talking about butter and garlic soaked mushrooms tossed with fresh herbs and coated in a creamy sauce all served up on steaming hot pasta – ♡♡♡ – let's get real. That, my friends, does not need a Meatless Monday. In my world, that can happen any day of the week.
This is not a new conversation around here, but I always feel the need to let you guys know: I haven't always been a mushroom lover.
Something happened to me a year or two into the food blogging game that made me go from a mushroom h8er 4 lyfe to a Professional Mushroom Eater. I'm, like, 900% sure that that something involved butter and garlic and white wine in a sizzling hot pan that also HAPPENED to contain a few mushrooms? But whatevs.
All that matters is that now I'm on the other side of the fence. I identify with the people of the world who put mushrooms in everything, from enchiladas to sandwiches to date night pasta with goat cheese –> come to think of it, that recipe looks suspiciously similar to this. MOVING ON THO.
Remember when I used bacon fat instead of butter for the sizzling pan of garlic and mushrooms? And then took an ultra close up picture of it for dramatic effect?
Right. That happened.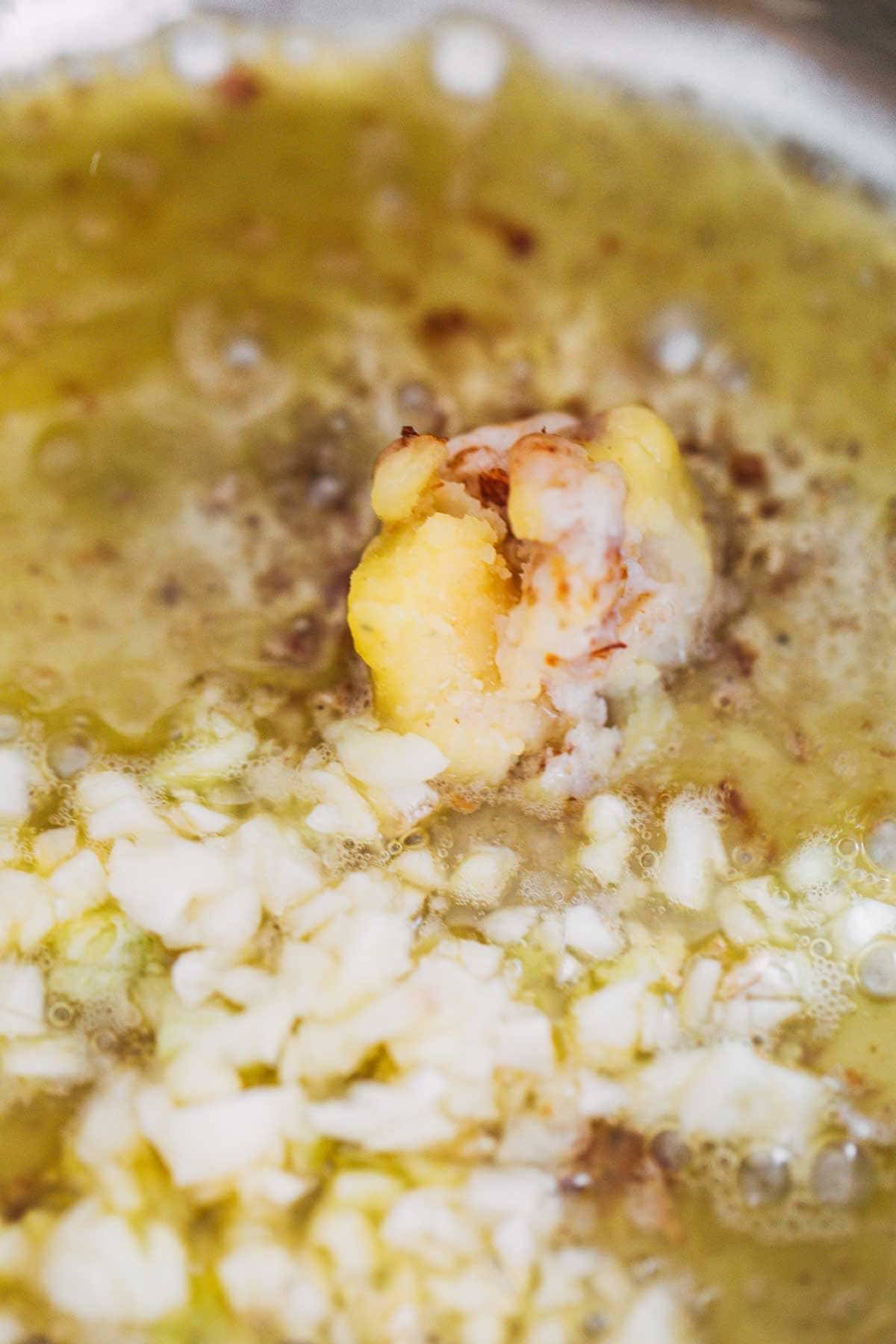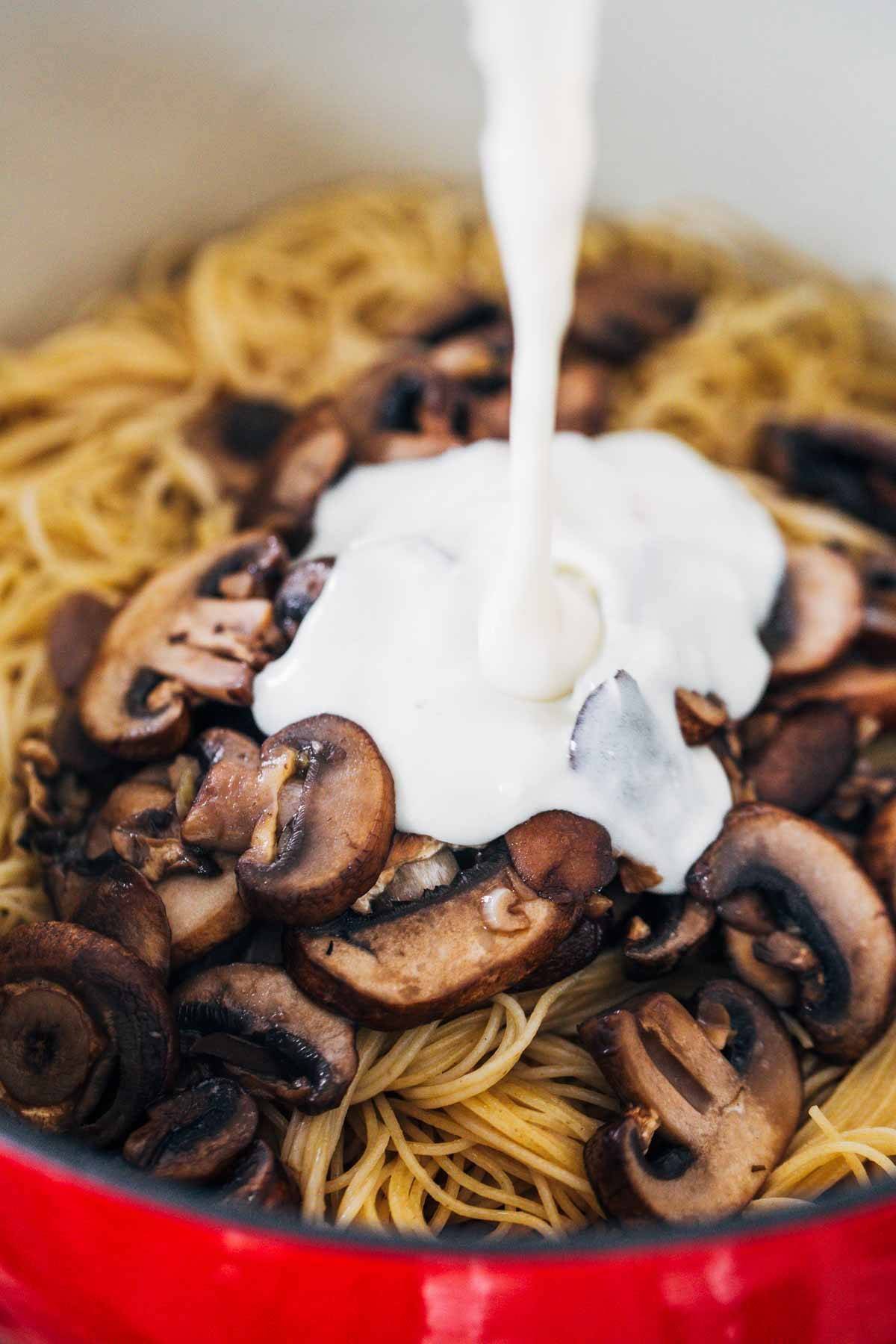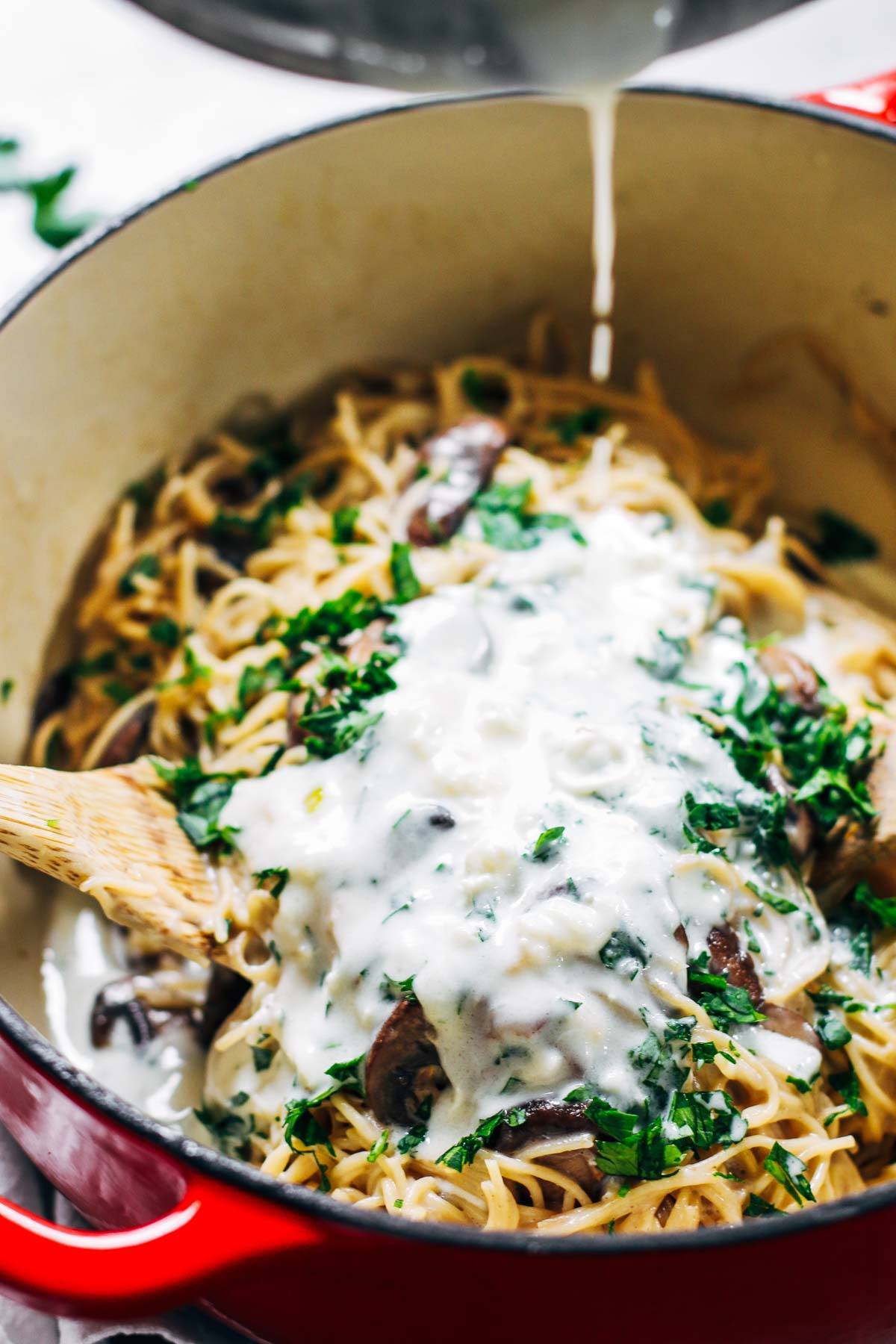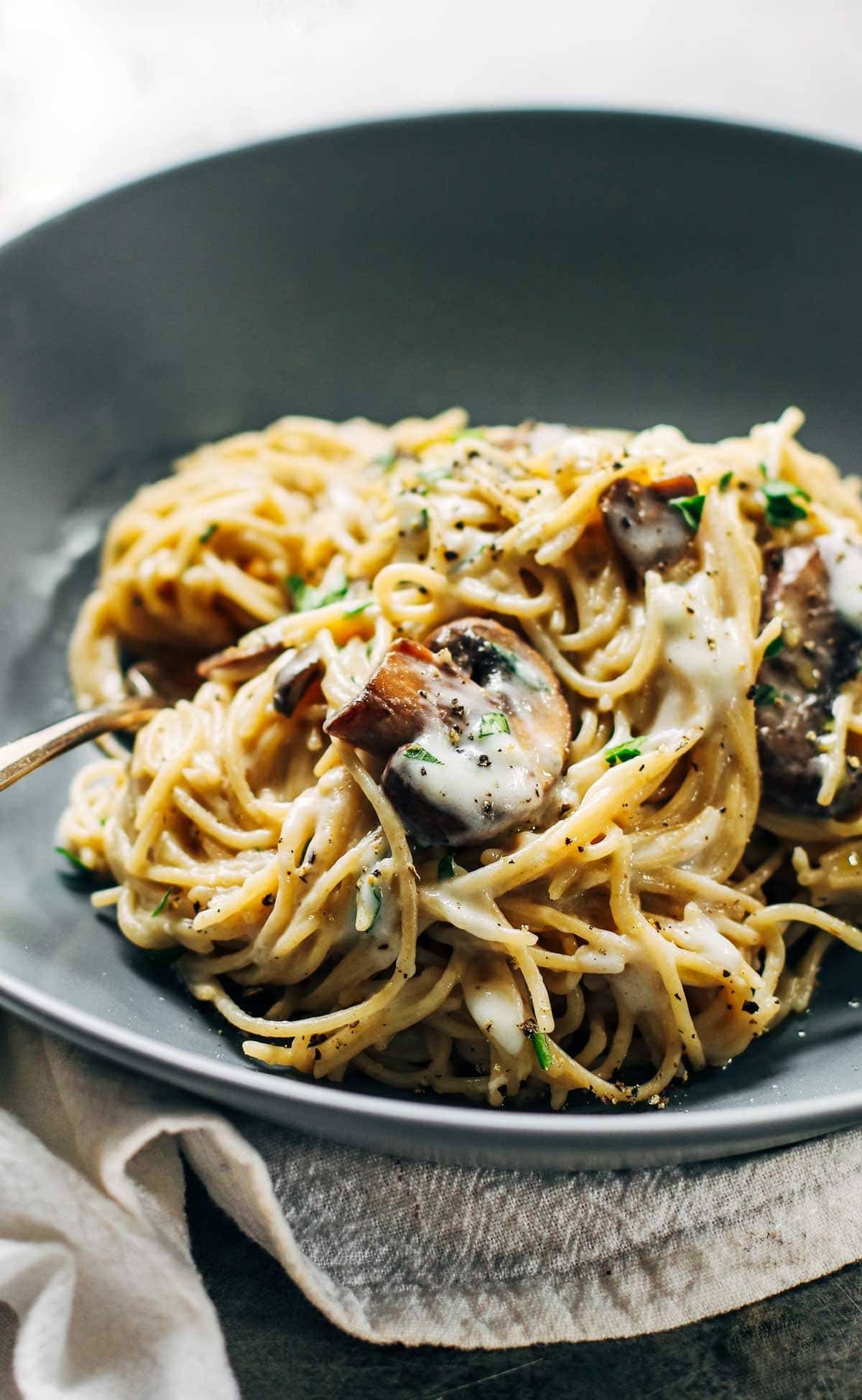 creamy garlic herb mushroom spaghetti
Prep Time: 10 mins
Cook Time: 20 mins
Yield: 4 huge servings
DESCRIPTION
This Creamy Garlic Herb Mushroom Spaghetti is total comfort food! Simple ingredients, ready in about 30 minutes. Vegetarian.
INGREDIENTS
8 ounces whole wheat pasta (spaghetti, linguine, etc.) – I like DeLallo brand
4 tablespoons butter, divided
3 cloves garlic, minced, divided
16 ounces fresh mushrooms, sliced
2 tablespoons flour (or whole wheat flour)
1 teaspoon herbes de provence
1 1/2 cups milk
salt and pepper to taste
3 tablespoons olive oil
additional 1/4 cup water, broth, milk or cream (optional)
1/4 cup fresh parsley (more to taste)
INSTRUCTIONS
Pasta: Cook the pasta according to package directions. Set aside and toss with a little oil to prevent sticking.
Mushrooms: Melt 2 tablespoons of butter over medium high heat. Add one clove of the garlic and saute for a minute until fragrant. Add the mushrooms and sauté for 5-10 minutes, until golden brown and softened. Set aside.
Sauce: Add the remaining 2 tablespoons of butter to the pan and melt again over medium high heat. Add the garlic and saute for a minute until fragrant. Add the flour and herbes de provence. Stir fry for a minute to cook out the flour taste. Add the milk slowly, whisking to incorporate. Let the mixture simmer until thickened. Season with salt and pepper.
Assemble: Toss the sauce, pasta, and mushrooms together. Add the olive oil and water as needed to keep the sauce from getting too thick. Stir in the parsley just before serving.
How To Make Delicious Food