GARLIC BEEF NOODLE BOWLS
Garlic Beef Noodle Bowls – an Asian style noodle bowl with lots of garlic, that is ready in just minutes! Great for busy nights.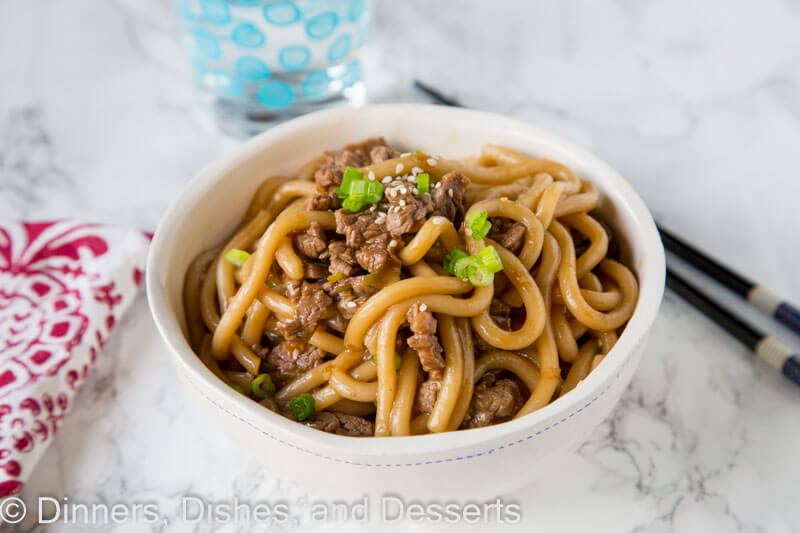 I am kind of excited for these garlic beef noodle bowls today. I have made these noodle bowls a few times for my family, and they absolutely love them. Anything with garlic and soy sauce is kind of a hit at our house; Chow Mein Noodles with Chicken is on repeat around here.
What noodles you use, is pretty much up to you. I used udon noodles this time, but you can use lo mein, linguine, Chinese egg noodles, or pretty much anything. Costco sells a package of udon noodles in their refrigerated section, we love them. It comes with 6 small packages of noodles inside. I use 4 of them to make this recipe. They cook in about 2 minutes, so are perfect for a quick and easy dinner. If you have Lo Mein on hand you can also make Chicken Lo Mein for an easy dinner.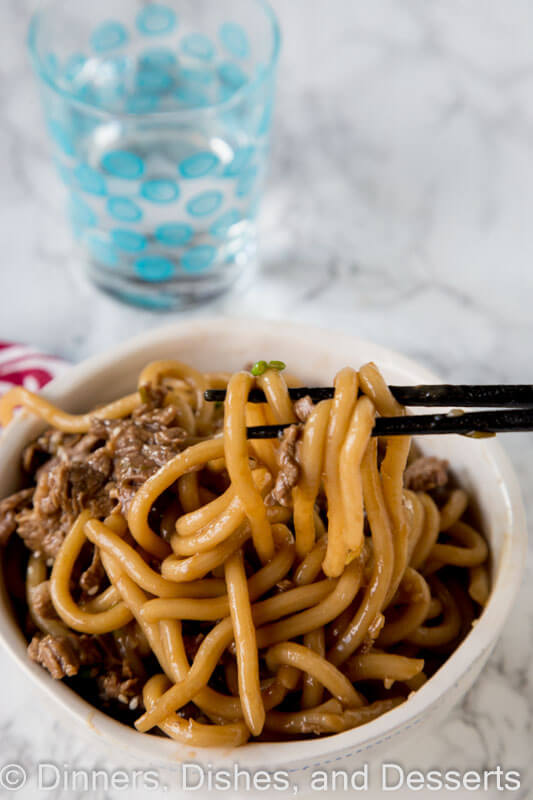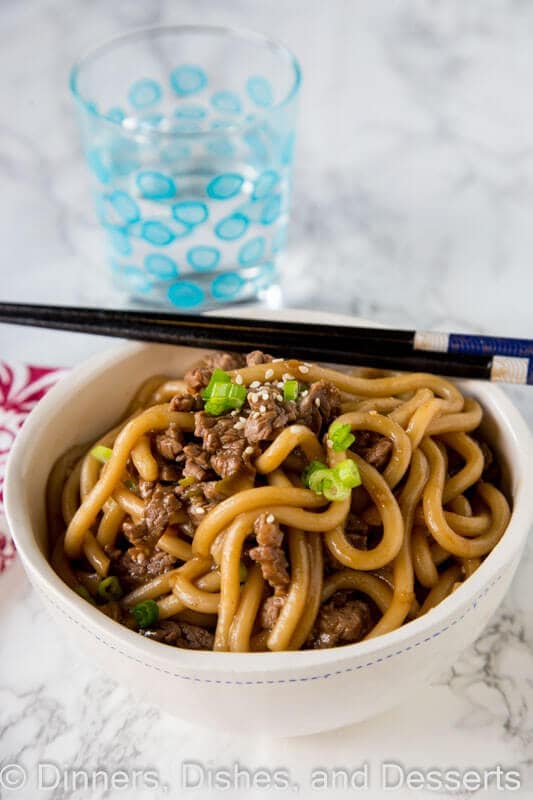 Some of my favorite kitchen items to use in this recipe are:
Pots and Pans – A good set of pots and pans is a must! You want the food to cook evenly, and the pans to last for years and years! I have had these Calphalon Comtempory pans for many years, and I will love them.
Knives: A good set of kitchen knives is essential for preparing any meal. We splurged on these Global knives about 14 years ago, and to this day they are still my favorite. These are hands down my favorite knives I have owned.
Cutting Board: For me this is a kitchen must-have and kitchen counter saver. While we have counter tops you can cut on, I find that this extra step will preserve my counter. I personally love the Epicurean cutting boards, because they clean up so easily, and you never have to worry about food getting stuck in the groves.
Garlic Beef Noodle Bowls
Prep Time 5 mins
Cook Time 10 mins
Total Time 15 mins
Garlic Beef Noodle Bowls - an Asian style noodle bowl with lots of garlic, that is ready in just minutes! Great for busy nights.
Course: Main Course
Keyword: beef noodles
Servings: 4
Calories: 508 kcal
Ingredients
2 Tbls olive oil
1 pound skirt steak , cut into thin strips
4 cloves garlic , minced
1 tsp fresh ginger , minced
1/4 cup soy sauce
2 Tbls brown sugar
1 tsp sesame oil
8 oz noodles (udon, lo mein, linguine etc)
2 Tbls sliced green onions
2 tsp sesame seeds
Get IngredientsPowered by Chicory
Instructions
Cook noodles according to package directions.
In a small bowl mix together brown sugar, soy sauce, and sesame oil. Stir until well combined. Set aside
Heat oil over high heat in a large skillet. Once hot, add beef strips. Cook for 2-3 minutes, until beef is browned.
Add garlic and ginger to the pan, cook for 1 minute until fragrant.
Add soy sauce mixture to the pan. Bring to a simmer, and cook for 3-5 minutes until sauce slightly thickens.
Add cooked noodles to the pan, stir to coat.
Sprinkle green onions and sesame seeds over the pan to serve.
Garlic Beef Noodle Bowls
Amount Per Serving
Calories

508
Calories from Fat 162
Total Carbohydrates

52g
17%
* Percent Daily Values are based on a 2000 calorie diet.
How To Make Delicious Food