Italian Wedding Pasta Bake
Italian Wedding Pasta Bake
Author: Dan
Yield: 6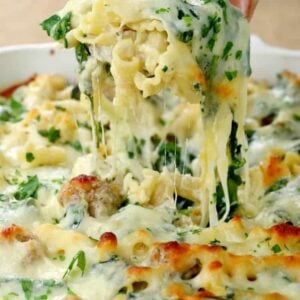 Italian Wedding Pasta Bake
Ingredients
1 lb. pasta
5 oz. fresh baby spinach
1 (12 oz.) package frozen turkey meatballs
16 oz. shredded mozzarella cheese
1/4 grated parmesan
FOR THE SAUCE
1/2 cup butter
4 cups heavy cream
1 1/2 teaspoon garlic powder
1 teaspoon Italian seasoning
1/2 teaspoon salt
1/4 teaspoon black pepper
1 1/2 cups grated parmesan cheese
Get IngredientsPowered by Chicory
Instructions
Preheat the oven to 375 degrees.
Start a large pot of water to boil, once it comes to a boil, add the pasta and cook according to package direction and drain.
While the pasta is cooking you can start the sauce. In a medium saucepan, melt the butter then whisk in the cream. Add the rest of the ingredients for the sauce and stir well to combine. Simmer for 5 minutes on low then cover and remove from the heat.
When the pasta is cooked and drained, return it to the same pot that you cooked it in, along with the fresh spinach, frozen meatballs and 1/2 cup of the mozzarella cheese.
Pour the sauce over the pasta and stir well to combine.
Spray a 9″ x 12″ baking dish with cooking spray then pour in the pasta mixture.
Top with the remaining mozzarella cheese and the 1/4 cup of parmesan cheese
Bake for 30 minutes.
Remove from the oven and serve.
How To Make Delicious Food