MOZZARELLA STUFFED MEATLOAF
MOZZARELLA STUFFED MEATLOAF
Flavorful ground beef stuffed with ooey gooey mozzarella cheese. This Mozzarella Stuffed Meatloaf is sure to become an instant family favorite!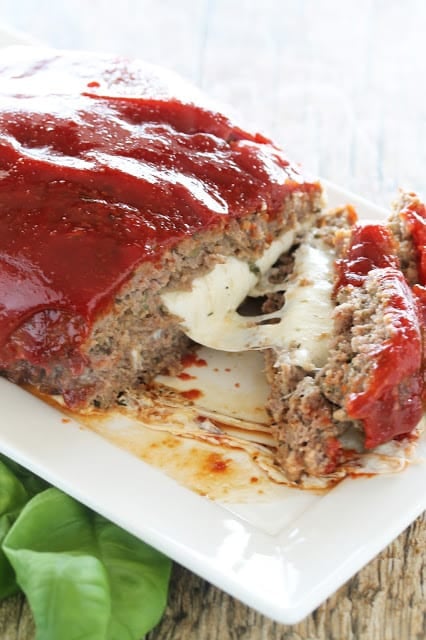 This recipe is a classic Italian-style meatloaf, stuffed with fresh mozzarella cheese. Cutting into the loaf and watching that cheese ooze out will totally make your mouth water. My 6 year old went into zombie mode, eyes fixated on dinner, saying "me hungry! me hungry!" Too bad for him, he had to wait for a photo shoot. But not you!
The glaze is sweet and a bit tangy with garlic creating a beautiful complimentary pairing with the Italian-spiced loaf. I'm telling you, the mozzarella in the middle makes all the difference. It may very well put you in zombie mode too!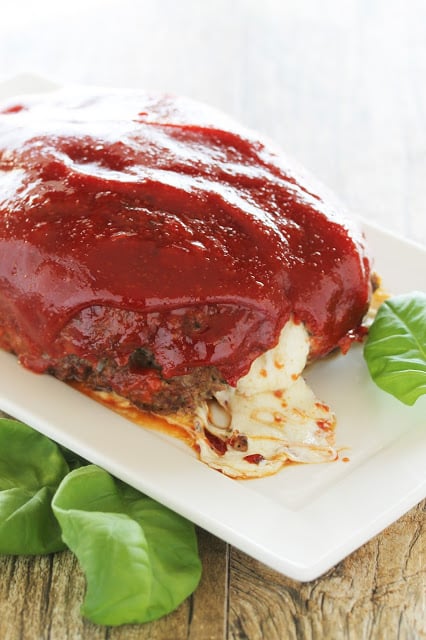 Many people have asked if you can add different kind of cheeses in the middle. Of course you can! But I do prefer slices of fresh mozzarella cheese (rather than the loaf kind). It produces the most ooey gooey results. You can always adjust it to work with what you have though! You may also be interested in my recipe for
Not Your Momma's Meatloaf.
So good!
MOZZARELLA STUFFED MEATLOAF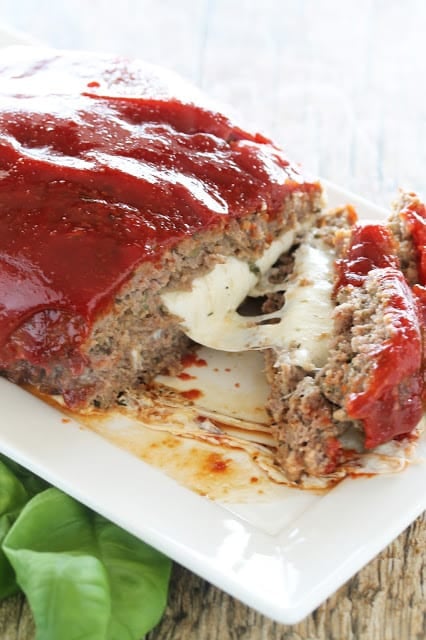 Time to Make It
1 hour 10 mins
Flavorful ground beef stuffed with ooey gooey mozzarella cheese.
Author: Rachel Farnsworth
Ingredients
1 pound ground beef (85%)
1 cup bread crumbs
1 tsp dried basil
1 tsp dried oregano
1 tsp dried parsley
1 tsp salt
½ tsp black pepper
½ cup milk
2 TB worcestershire sauce
8 oz fresh mozzarella, sliced
1 cup ketchup
¼ cup brown sugar, tightly packed
1 TB worcestershire sauce
1 TB red wine vinegar
2 cloves garlic, crushed
⅛ tsp salt
pinch cayenne pepper
Instructions
Preheat oven to 350 degrees. Lightly grease a glass baking pan

(9x13) with nonstick cooking spray.

In a

large mixing bowl

combine ground beef, bread crumbs, basil, oregano, parsley, salt, pepper, milk, and worcestershire sauce. Knead until combined.

Divide meat in half. Shape one half of the meat into the bottom half of the loaf and place in prepared pan. Place mozzarella slices down the center, leaving ½ inch around the ends and sides. Shape remaining half of meat as the top half of the loaf, sealing the edges. This is a free-form loaf so it doesn't need to be perfect.
In a

small mixing bowl

whisk together ketchup, brown sugar, worcestershire sauce, red wine vinegar, garlic, salt, and cayenne pepper. Pour half of this mixture over the meatloaf, reserving the remaining half for later.

Bake in the preheated oven for 45 minutes.
After 45 minutes, remove from oven and pour the remaining sauce over the loaf.Increase temperature to 400 degrees and bake for an additional 15 minutes.
Let rest 5 to 10 minutes before serving.
How To Make Delicious Food