OVEN BAKED TACOS
I thought these were awesome. I used the flat bottomed taco shells. I don't understand how someone can give it less than five stars when they didn't follow the recipe exactly. It skewers the overall rating of the recipe.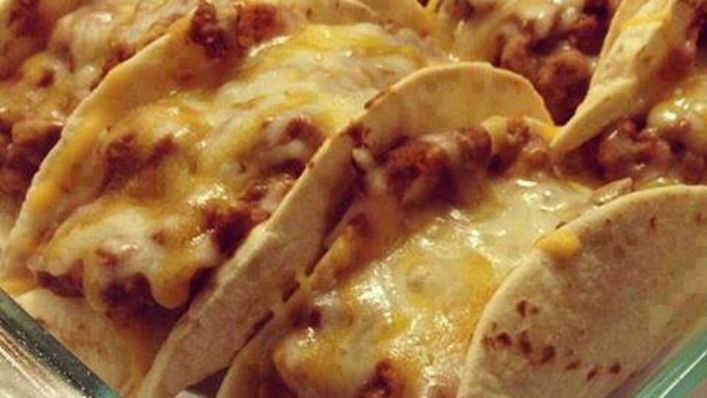 READY IN: 45 mins
SERVES: 12
YIELD: 12 tacos
INGREDIENTS
2lbs ground beef, lean
3tablespoons taco seasoning
6ounces tomato sauce
20 1⁄2ounces refried beans
shredded cheddar cheese
12small flour tortillas
diced tomato
diced onion
sour cream
salsa
shredded lettuce
DIRECTIONS
Brown ground beef and drain.
Add taco seasoning, refried beans and tomato sauce.
Heat until blended.
Preheat oven to 375 degrees.
Spray a glass 9x13 pan with oil.
Spoon taco filling into taco shells and stack them side by side in pan.
When shells are filled, top each with shredded cheese.
Bake for approximately 15 minutes, watching so they do not brown too much.
Top with remaining ingredients, if desired.
How To Make Delicious Food