PASTA WITH TOMATO CREAM SAUCE
PASTA WITH TOMATO CREAM SAUCE
This amazing pasta is going to be your new best friend! It comes together in a flash and oh those tomatoes, cream and pasta…..topped with a dusting of cheese. It's perfect in its simple little way.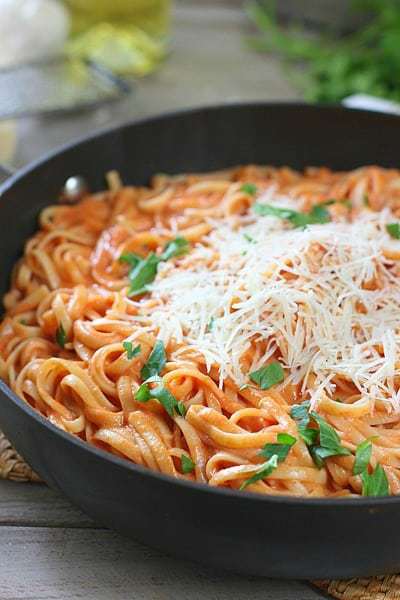 Sometimes, a cuppa cream has gotta hit the pan. I mean how much chicken and veggies can one girl eat?
If I am going to splurge on a bowl of pasta, you can bet it's going to have tomatoes and cream in it. The simple combo just leaves me all happy and stuff. (I did have broccoli on the side BTW, it's all about balance :).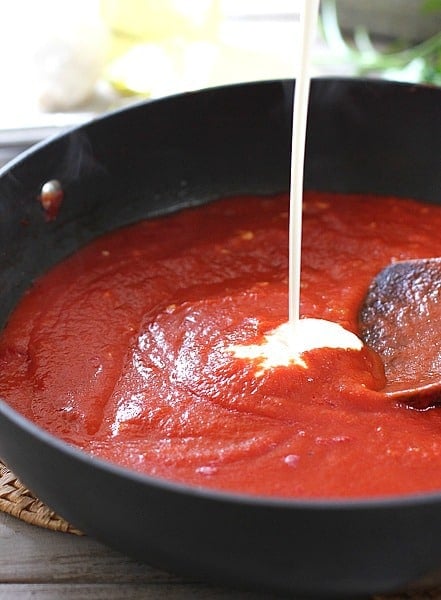 Saute some onions and garlic in a little butter and olive oil. Toss in the tomato sauce, let it cook down a bit…then hit it with the cream. Not half and half my friends, cream. Make up those 40 calories somewhere else. CREAM for this one my friends.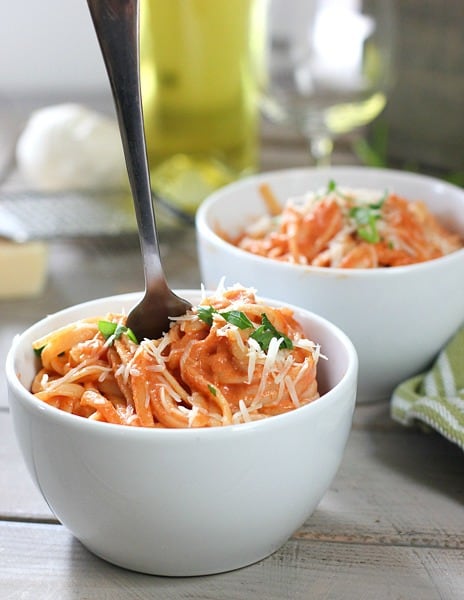 Besides being incredibly easy to make, this makes a ton of pasta. I'm gonna be knocking on neighbors doors giving this stuff away. My neighbors really, really like me.
I used linguine because I figured it was 'thinner' and lower in calories than fettuccine. The rational of a chub-o is an amazing thing. You don't wanna be in this head….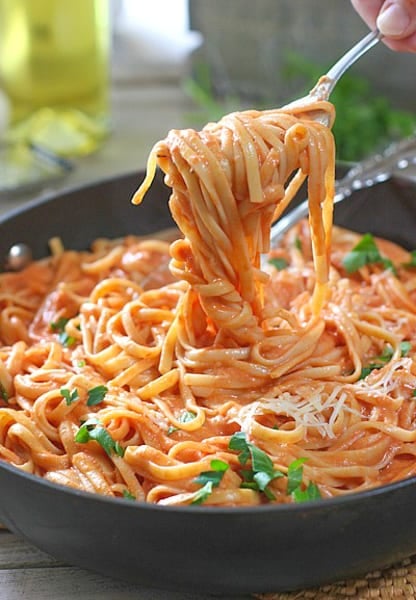 TIPS TO MAKE PASTA IN TOMATO CREAM SAUCE:
You can use tomato sauce, marinara or crushed tomatoes in this recipe. ( I really like the simple flavor of the tomato sauce).
Use any kind of pasta you like, this is all about the sauce.
Add chicken or sausage if you need a protein.
Taste test, adding salt and pepper as you go. This should go without saying, but I forget all the time and it can make or break a dish. Also salt your pasta water.
Pasta with Tomato Cream Sauce
Prep Time 10 mins
Cook Time 20 mins
Total Time 30 mins
An easy to make Pasta Dish with a big tomato and cream flavors!
Course: Dinner, Main Course
Cuisine: Italian
Servings: 8 servings
: 399 kcal
: LaughingSpatula.com
Ingredients
2 tablespoons butter
2 tablespoons olive oil
4 cloves garlic minced
1/2 cup onion minced
2 15 oz cans tomato sauce
1 cup heavy cream
1/2 cup grated parmesan plus extra for garnish
salt and pepper to taste
1 pound linguine or pasta of your choice
Get IngredientsPowered by Chicory
Instructions
Heat large skillet on medium heat.
Add olive oil and butter. Heat until butter melts.
Add onion and garlic. Cook for 2-3 minutes until fragrant.
Add tomato sauce and simmer for about 20 minutes until sauce is darker in color and thick.
Bring large pot of water to boil. Add about 2 teaspoons of salt.
Add pasta and cook according to package directions.
When sauce is thick, turn off heat and let rest for 5 minutes.
Add cream and combine.
Add 1/2 cup parmesan cheese.
Toss with cooked pasta and top with additional grated parmesan cheese.
Pasta with Tomato Cream Sauce
Amount Per Serving
Calories

399
Calories from Fat 171
Total Carbohydrates

44g
15%
* Percent Daily Values are based on a 2000 calorie diet.
How To Make Delicious Food